Visualizing the Flow of Energy-Related CO2 Emissions in the U.S.
The Flow of Energy-Related CO2 Emissions in the U.S.
In 2021, U.S. carbon dioxide emissions from the generation and consumption of energy reached 4.9 billion tonnes. Fossil fuels including petroleum, natural gas, and coal made up 100% of these emissions.
To better understand how various energy sources and their end-uses contribute to carbon emissions, this graphic sponsored by the National Public Utilities Council visualizes the flow of energy-related CO2 emissions in the United States.
What Are Energy-Related CO2 Emissions?
Energy-related CO2 emissions refer to the release of carbon dioxide as a result of the combustion of fuels to produce energy. They arise through the direct use of fossil fuels for transport, heating, or industrial needs, as well as the use of fossil fuels for electricity generation.
In addition to the emissions that arise from the generation and consumption of energy, there are several other ways CO2 emissions can arise. To provide some context, they can result as a byproduct of industrial chemical reactions, deforestation, and agricultural activities.
As the largest contributor to carbon emissions, however, energy-related CO2 emissions account for approximately 85% of all emissions in the United States, which we will now explore in further detail.
U.S. Energy-Related CO2 Emissions in 2021
Followed by a pandemic-driven decline in 2020, energy-related CO2 emissions in the U.S. increased by 325 million tonnes in 2021, marking the largest-ever annual increase. Clean energy sources, namely solar, wind, nuclear, biomass and hydropower, accounted for 0% of these emissions.
| Energy Source | CO2 emissions in million tonnes, 2021 | % of total energy-related emissions |
| --- | --- | --- |
| Petroleum | 2,223 | 45.7% |
| Natural Gas | 1,637 | 33.7% |
| Coal | 1,003 | 20.6% |
| Solar, Wind, Nuclear, Hydro, and Biomass | 0 | 0% |
| Total | 4,863 | 100% |
When we follow the CO2 emissions from the above fossil fuels to their end uses, transportation and electricity generation stand out as the biggest contributors.
In 2021, these two sectors accounted for more than 68% of all energy-related emissions in the country, roughly emitting 3.3 billion tonnes of CO2.
| End-Uses | CO2 emissions in million tonnes, 2021 | % of total energy-related emissions |
| --- | --- | --- |
| Transportation | 1,801 | 37.0% |
| Electricity Generation | 1,537 | 31.6% |
| Industrial Uses | 965 | 19.8% |
| Residential Uses | 321 | 6.6% |
| Commercial Uses | 239 | 4.9% |
| Total | 4,863 | 100% |
When it comes to transportation, petroleum accounted for 97% of emissions, largely due to motor gasoline and diesel consumption. On the other hand, coal and natural gas made up 99% of CO2 emissions related to electricity generation.
Due to its high carbon intensity, coal's contribution to power sector emissions is of particular interest. As the share of coal rose from 20% to 23% in the U.S. electricity mix in 2021, electricity emissions from coal also increased for the first time since 2014.
Naturally, this shift raised the overall energy-related CO2 emissions in 2021. It also caused a 4% hike in the carbon intensity of the country's electricity, hinting at the urgent need for a shift away from coal.
The Path to Decarbonization: Lowering Emissions
The impact of climate change has become increasingly clear in recent years. To avoid its worst impacts, it's essential to achieve decarbonization across all sectors, which requires significant reductions in energy-related carbon emissions.
One of the most critical sectors for emissions reductions is transportation, which accounts for nearly 40% of all energy-related CO2 emissions. The good news is that there is enormous potential to reduce these emissions through the use of electric vehicles and the decarbonization of the electricity used to charge them.
To decarbonize the power sector, the U.S. must transition away from fossil fuels and towards clean energy sources such as wind, solar, and nuclear power. Once achieved, decarbonized electricity also has the power to reduce emissions from all other sectors that use electricity, including industrial, residential and commercial activities.
By taking bold action toward these objectives, the U.S. can accelerate the transition to a clean energy future within its borders and beyond.
Click here to learn more about how electric utilities and the power sector can lead on the path toward decarbonization.
Visualizing Global Per Capita CO2 Emissions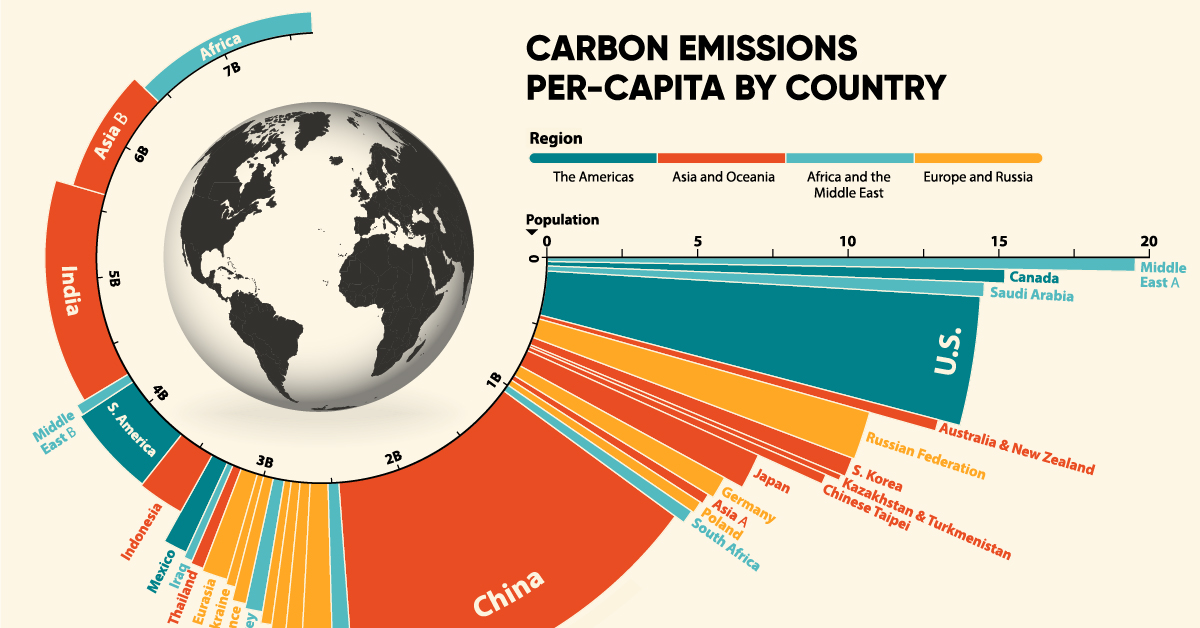 Highest Per Capita CO2 Emissions
This was originally published on December 1, 2021, on Visual Capitalist.
Developing countries like China, India, and Russia are some of the highest producers of CO2 worldwide and will be so for a while. But the situation is far from straightforward—and looking at CO2 emissions per capita can add nuance to the overall story.
Based on data presented by the Aqal Group and the IEA, here we visualize the countries and regions with the highest per capita carbon emissions from around the world.
Let's dive into the highest per capita carbon emitters and how they are trying to reduce their carbon contributions.
Leaders in Per Capita CO2 Emissions
Oil-producing countries in the Middle East are the highest emitters of CO2 on a per capita basis, but developed countries like the U.S., Australia, New Zealand, and Canada also have some of the higher rates of per capita emissions.
| Rank | Country or Region | Carbon Emissions Per Capita (t/year) |
| --- | --- | --- |
| #1 | Middle East A* | 19.5 |
| #2 | Canada | 15.2 |
| #3 | Saudi Arabia | 14.5 |
| #4 | United States | 14.4 |
| #5 | Australia & New Zealand | 13.6 |
| #6 | Russia | 11.4 |
| #7 | South Korea | 11.3 |
| #8 | Kazakhstan & Turkmenistan | 11.2 |
| #9 | Taiwan | 10.8 |
| #10 | Japan | 8.4 |
| | Global Average | 4.4 |
*Middle East A group includes Bahrain, Oman, Kuwait, Qatar, and United Arab Emirates
Canada and the United States have per capita carbon footprints of 15.2 and 14.4 tonnes per year, respectively. Meanwhile, Australia and New Zealand combine for an average per capita footprint of over 13.6 tonnes per year.
It's worth noting that all of these numbers are more than three times higher than the global average, which in 2019 was 4.4 tonnes per person.
Energy Sources and Per Capita CO2 Emissions
Since there is a strong relationship between wealth and per capita CO2 emissions, we'd expect countries with high living standards to have a high carbon footprint.
But the data above shows significant differences in per capita emissions, even between countries with similar living standards. Many countries across Europe, for example, have much lower emissions than the U.S., Canada, or Australia.
Here's a look at the top 25 countries by standard of living and their share of electricity production from fossil fuels:
Rank
Country
Per Capita Electricity
Consumption (kWh)
% Electricity Production
(from fossil fuels)
1
🇫🇮 Finland
12,174
15.6%
2
🇩🇰 Denmark
5,015
21.8%
3
🇳🇴 Norway
26,492
1.2%
4
🇧🇪 Belgium
7,414
34.6%
5
🇸🇪 Sweden
16,478
2.2%
6
🇨🇭 Switzerland
7,935
1.0%
7
🇳🇱 Netherlands
7,264
71.5%
8
🇫🇷 France
8,097
9.5%
9
🇩🇪 Germany
6,771
43.8%
10
🇯🇵 Japan
7,446
69.1%
11
🇬🇧 United Kingdom
4,500
40.7%
12
🇨🇦 Canada
16,648
16.6%
13
🇰🇷 South Korea
10,458
65.8%
14
🇺🇸 United States
12,235
60.1%
15
🇹🇼 Taiwan
11,091
82.8%
16
🇦🇹 Austria
7,716
20.7%
17
🇦🇺 Australia
9,857
75.1%
18
🇮🇪 Ireland
6,408
59.3%
19
🇸🇬 Singapore
8,542
96.7%
20
🇪🇸 Spain
5,641
34.4%
21
🇮🇹 Italy
4,554
56.8%
22
🇨🇿 Czech Republic
7,534
50.7%
23
🇵🇹 Portugal
5,100
41.2%
24
🇳🇿 New Zealand
8,880
18.9%
25
🇱🇺 Luxembourg
1,529
28.5%
Sources: Electricity consumption, Fossil fuel mix
The choice of energy sources plays a key role here. In the UK, Portugal, and France, a much higher share of electricity is produced from nuclear and renewable sources.
For example, only 9.5% of France's electricity production comes from fossil fuels, compared to other developed countries like the U.S. at 60.1% and Japan at 69.1%.
G20 Countries and Carbon Emissions
This reliance on fossil fuels for energy production extends to the rest of the G20 countries. According to the Climate Transparency Report, CO2 emissions will rise by 4% across the G20 group this year, dropping 6% in 2020 due to the pandemic.
This rise is mainly due to the increase in coal consumption across these countries. Coal consumption is projected to rise by almost 5% in 2021, with this growth driven by China (accounting for 61% of the growth), the U.S. (18%), and India (17%).
Here's a look at the current coal power capacity of each G20 country:
Coal use in China has surged, with the country experiencing increased demand for energy as the global economy has recovered. Coal prices are up nearly 200% from a year ago.
Plans to Tackle Emissions
The conclusion of the U.N. Climate Change Conference (COP26) in Glasgow saw several pledges and announcements being made by various countries. Here are some of the highlights:
The world's biggest CO2 emitters, the U.S. and China, pledged to cooperate more over the next decade in areas including methane emissions and the switch to clean energy.
Leaders from more than 100 countries—with about 85% of the world's forests—promised to stop deforestation by 2030.
More than 100 countries agreed upon a scheme to cut 30% of methane emissions by 2030.
Financial organizations have agreed to back renewable energy and direct finance away from fossil fuel-burning industries.
Many countries have pledged to do their part to tackle climate change. It will be an impressive display of global unity if global CO2 emissions drop significantly over the next decade.
How Far Are We From Phasing Out Coal?
More carbon in the atmosphere is creating a hotter world—and gradually fuelling both climate change and instances of wildfires.
How Far Are We from Phasing Out Coal?
This was originally published on April 28, 2022, on Elements.
At the COP26 conference last year, 40 nations agreed to phase coal out of their energy mixes.
Despite this, in 2021, coal-fired electricity generation reached all-time highs globally, showing that eliminating coal from the energy mix will not be a simple task.
This infographic shows the aggressive phase-out of coal power that would be required in order to reach net zero goals by 2050, based on an analysis by Ember that uses data provided by the International Energy Agency (IEA).
Low-Cost Comes at a High Environmental Cost
Coal-powered electricity generation rose by 9.0% in 2021 to 10,042 Terawatt-hours (TWh), marking the biggest percentage rise since 1985.
The main reason is cost. Coal is the world's most affordable energy fuel. Unfortunately, low-cost energy comes at a high cost for the environment, with coal being the largest source of energy-related CO2 emissions.
China has the highest coal consumption, making up 54% of the world's coal electricity generation. The country's consumption jumped 12% between 2010 and 2020, despite coal making up a lower percentage of the country's energy mix in relative terms.
| Top Consumers | 2020 Consumption (Exajoules) | Share of global consumption |
| --- | --- | --- |
| China 🇨🇳 | 82.3 | 54.3% |
| India 🇮🇳 | 17.5 | 11.6% |
| United States 🇺🇸 | 9.2 | 6.1% |
| Japan 🇯🇵 | 4.6 | 3.0% |
| South Africa 🇿🇦 | 3.5 | 2.3% |
| Russia 🇷🇺 | 3.3 | 2.2% |
| Indonesia 🇮🇩 | 3.3 | 2.2% |
| South Korea 🇰🇷 | 3.0 | 2.0% |
| Vietnam 🇻🇳 | 2.1 | 1.4% |
| Germany 🇩🇪 | 1.8 | 1.2% |
Together, China and India account for 66% of global coal consumption and emit about 35% of the world's greenhouse gasses (GHG). If you add the United States to the mix, this goes up to 72% of coal consumption and 49% of GHGs.
How Urgent is to Phase Out Coal?
According to the United Nations, emissions from current and planned fossil energy infrastructure are already more than twice the amount that would push the planet over 1.5°C of global heating, a level that scientists say could bring more intense heat, fire, storms, flooding, and drought than the present 1.2°C.
Apart from being the largest source of CO2 emissions, coal combustion is also a major threat to public health because of the fine particulate matter released into the air.
As just one example of this impact, a recent study from Harvard University estimates air pollution from fossil fuel combustion is responsible for 1 in 5 deaths globally.
The Move to Renewables
Coal-powered electricity generation must fall by 13% every year until 2030 to achieve the Paris Agreement's goals of keeping global heating to only 1.5 degrees.
To reach the mark, countries would need to speed up the shift from their current carbon-intensive pathways to renewable energy sources like wind and solar.
How fast the transition away from coal will be achieved depends on a complicated balance between carbon emissions cuts and maintaining economic growth, the latter of which is still largely dependent on coal power.